Who's This Guy Named Oscar and Why Is He on TV?
Maybe it's me, but it seems like most of the commentary I've seen this year finds the writer complaining how the Academy snubbed their favorite movie, and why the nominees for the various categories are undeserving. And we can't forget how the whole thing is a horse race that does little to reflect the best the industry has to offer. And then everybody dives in with their picks for who's going to win. I won't be any different. Full list of nominees is here.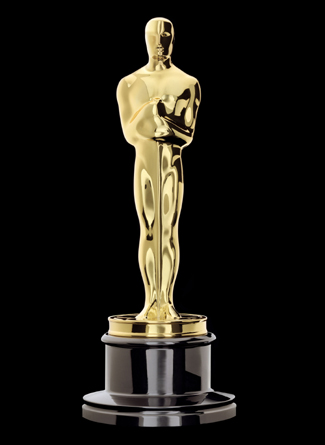 *Best Picture: The King's Speech, even though I preferred The Social Network and especially Toy Story 3.
*Best Actor: Colin Firth, The King's Speech. Because everyone says so.
*Best Actress: Last time I picked the wrong actress from The Kids Are All Right. Now there's only one. Which is why I'm going to say Natalie Portman, Black Swan.
*Best Actor, Supporting: Christian Bale, The Fighter. Again, everyone says so.
Best Actress, Supporting: Mmm... Hailee Steinfeld (True Grit), I think this is finally your year!
Best Original Screenplay: Christopher Nolan, Inception. If we can't understand it, it must be good.
*Best Adapted Screenplay: Aaron Sorkin, The Social Network.
*Best Animated Feature: How To Train Your Dragon. Yes. Really. Really? No, Toy Story 3. Of course.
Best Foreign Language Film: I have no idea. Let's say, Biutiful.
Best Cinematography: Roger Deakins, True Grit. Wait, how has Roger Deakins not won an Oscar yet?
Best Editing: Let's go with The King's Speech.
*Best Art Direction/Costume Design: I think Alice In Wonderland gets both. More seems to be better with things like this.
*Best Makeup: The Wolfman. See above.
*Best Original Score: The Social Network, over the protests of film score nerds everywhere. Jim Emerson also has a nice post about the work of Carter Burwell, and why the Academy needs to change the rules for this category.
*Best Sound Mixing: (Throws dart at list on the wall.) Inception.
Best Sound Editing: (Throws second dart. Cleans up shards of broken lamp. Throws third dart.) Toy Story 3.
*Best Visual Effects: Inception. For the folding city thing.
Best Documentary: I haven't seen any of these. So let's go with Restrepo. Tim Hetherington and Sebastian Junger were getting shot at in Afghanistan. It's the least the Academy can give them.
The Shorts Categories: I seriously have never heard of any of these, much less seen them. Which is a shame. And I haven't heard any talk about favorites. So I'm not even going to guess.
Update: 11/20. Good thing I don't want to make a living at this.